Fast Carpet Tile Delivery Services
Carpet Tiles Next Day offers several fully insured delivery options. We aim to deliver all items as safely and as quickly as possible no matter where you are located. We can ship carpet tiles to almost anywhere within the UK regardless of how large or small your order is.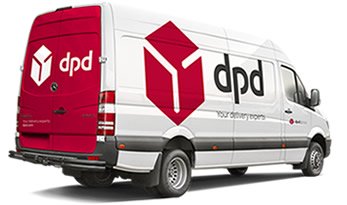 Royal Mail & Carrier Deliveries
Carpet Tile Samples
Our samples are usually sent by Royal Mail 1st Class post. The sample packs have been designed to go through a standard letterbox. If you need the samples 'Next Day' we can send by Royal Mail Special Delivery, although there is an extra cost for using this service. Whole tile samples for larger jobs or for contractors to show prospective clients can also be obtained by special arrangement and would be sent via FedEx UK or Parcelforce Worldwide on any of the services offered below (please contact us for details). We aim to send all carpet tile samples out within 24hrs of being requested on our website. We respectively ask you request no more than nine sample swatches at a time as this is the maximum amount we can fit in one of our boxes. For more info about our services please call 01485 528993.
Parcel Deliveries
All carpet tile parcel deliveries are sent via DPD or FedEx UK. A choice of either Economy, Standard Next Day, Next Day AM or Saturday delivery services are available within the UK. At checkout if a particular service is not available for your area simply opt for another to complete your order. Please make sure when placing your order that a delivery address has been given where someone will be available to sign for the parcels. If this is not possible, please notify us immediately or you can change later yourself 'in flight' once the carrier has sent through your tracking information. They also have a facility where you can request that they drop off your parcels at one of their designated pick up points for collection by yourself later. Alternatively you can arrange for them to be left with a neighbour or put in a safe place.
Pallet Deliveries
Orders over 12 boxes are usually sent out on 1m x 1m wooden pallets. Goods are shrink wrapped to protect against dirt and weather and to keep boxes from moving during transit. Upon arrival if you do not have offloading facilities in place then they will be lifted off the vehicle using the tail-lift. Please be aware that the carrier is only insured to drop off at the kerbside and is not obliged to carry or pull goods into your premises. Therefore please make sure sufficient help is on hand to assist the driver during delivery. All deliveries must be signed for upon receipt and any damage reported immediately on arrival. If you think access may be restricted for lorries or you require goods to be booked in prior to delivery then please email or call us with details as soon as possible after placing your order online.
Carrier Delivery Zones & Prices
If a product is showing as 'In stock' and you have been able to successfully checkout through our cart then we will dispatch it straight away. Please do not assume that every order is sent on a NEXT DAY service as our names suggests. We can deliver next day to most of mainland UK but we also offer several other delivery options utilizing our accounts with DPD, Parcelforce, FedEx and Palletways. You need to choose which option suits your timescale best before completing your order. Tracking info will be sent after dispatch from our warehouse.
All orders received before 2pm (Monday - Friday) will be dispatched the same day and should arrive between 8am - 6pm or within the specified delivery times below. Unfortunately we are unable to deliver on Weekends or Bank Holidays unless you have opted for a special Saturday delivery. In which case we will send out on Friday regardless of which day of the week you purchased. If you require further information or wish to discuss any of our delivery services then please call or email our sales team prior to ordering any products on our site.
ZONE 1 - Mainland UK
No. OF TILES

(No. of Boxes)

ECONOMY

(2/3 Day)

NEXT DAY

(1 Working Day)

20 - 180 Tiles
(1-9 Boxes)

£4.99 + vat
Per Box

£6.99 + vat
Per Box

200 - 480 Tiles
(10-24 Boxes)

£49.99 + vat
Per Order

£69.99 + vat
Per Order

500+ Tiles
(25+ Boxes)

FREE

£55.00 + vat
One Off Surcharge

Zone 1 - Premium Delivery Options

No. OF TILES

(No. of Boxes)

NEXT DAY AM

(Before Midday)

SATURDAY

(8am - 5pm)

20 - 180 Tiles
(1-9 Boxes)

£8.49 + vat
Per Box

£8.99 + vat
Per Box

200 - 480 Tiles
(10-24 Boxes)

£84.99 + vat
Per Order

£104.99 + vat
Per Order

500+ Tiles
(25+ Boxes)

£70.00 + vat
One Off Surcharge

£90.00 + vat
One Off Surcharge
ZONE 2 - Scotland (Upper)
No. OF TILES

(No. of Boxes)

ECONOMY

(3/4 Day)

20 - 80 Tiles
(1-4 Boxes)

£10.99 + vat
Per Box

100 - 180 Tiles
(5-9 Boxes)

£9.99 + vat
Per Box

200 - 480 Tiles
(10-24 Boxes)

£99.99 + vat
Per Order

500+ Tiles
(25+ Boxes)

£129.99 + vat
Per Pallet 800 Tiles
ZONE 3 - Northern Ireland
No. OF TILES

(No. of Boxes)

ECONOMY

(2/3 Day)

20 - 120 Tiles
(1-6 Boxes)

£9.99 + vat
Per Box

140 - 240 Tiles
(7-12 Boxes)

£68.50 + vat
Per Order

260 - 480 Tiles
(13-24 Boxes)

£79.50 + vat
Per Order

500+ Tiles
(25+ Boxes)

£99.50 + vat
Per Pallet 800 Tiles