Swipe to the left
10 Christmas Home Decorating Ideas For Festive Holiday Cheer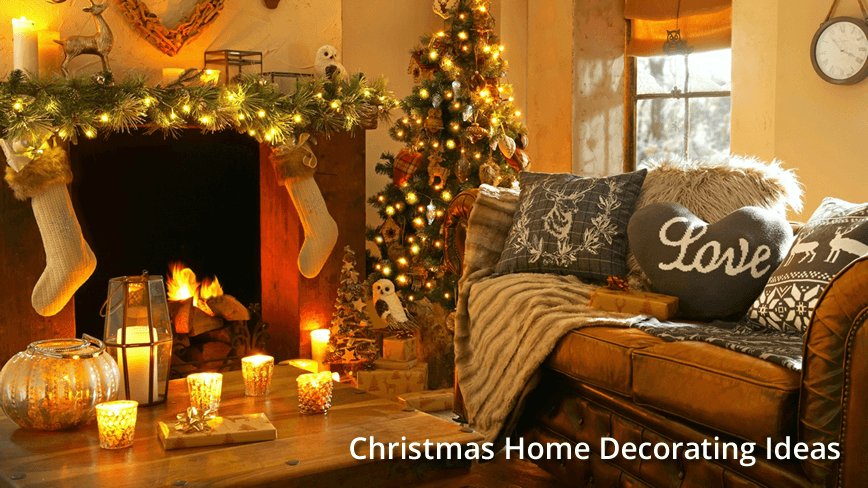 It's beginning to look a lot like Christmas...
.... but is your home in the holiday spirit?
Step into the season of joy with these Christmas home decorating ideas:
Need more home decor inspiration? Try using sites such as Design Like which source trends, news and helpful hints and tips on all things design and renovation.
Re-invent Your Wreaths
While traditional Christmas wreaths and garlands are always popular, make your house stand out this festive season with these cool and unique wreath ideas. From glitzy bauble wreaths to rustic wooden wreaths, and paper flower ones to personalised photo wreaths.
Got a sweet tooth? Try making a candy cane wreath or marshmallow garland.
A quick internet search will generate hundreds of unique Christmas wreath ideas for you, from handmade to shop-bought.
Seasonal Scents
Make your home smell like Christmas (after all your nose wants in on the merriness too!)
Favourite festive fragrances include spiced apple, cinnamon, pine cones, gingerbread, oranges and cloves, peppermint, frankincense, mulled wine and winter berries.
Stock up on winter-scented candles, air fresheners, room sprays, and winter potpourri.
Or, it can be as simple as taking some cinnamon sticks and placing them on your Christmas tree and in your wreaths.
Dine Like Kings
Transform your Christmas tableware into a seasonal spread fit for a king (or three). Cheer up your centrepiece by using a miniature Christmas tree. Novelty placemats and coasters make for some family feasting fun. Or go formal with sophisticated dinnerware in glittering hues of gold and silver.
Christmas Countdown
*Because chocolate advent calendars are so overrated*
Count down the days until Santa arrives by decorating your own personalised advent calendar. These double up as merrily-cute Crimbo decorations for your home. Try a traditional wooden advent calendar house or a fabric calendar. Tie up some string to create a hanging advent calendar and peg on personalised messages or photos.
Snug As A Rug
Baby its cold outside… So keep warm and cosy indoors this season - but with a yuletide twist! Think Christmas patterned throws, festive rugs and novelty cushions. Design your own rug using domestic carpet tiles - you can mix and match colours to reflect your Christmas colour scheme.
Presents As Decor
Presents shouldn't just be reserved for under the tree. Show off your amazing wrapping skills by lining your mantelpiece or stairwell with gifts. Try a variety of patterns and stack different sized presents up. Vintage style brown paper tied with string make wonderful wrapping.
Spread Christmas Cheer Everywhere
Christmas decorations shouldn't be reserved just for the main rooms in your home. Let the merriness spill into every part of your house. Turn the hallway into a winter walkway, align the staircase with tinsel and stick a Christmas scented air freshener in your bathroom.
Quirky Trimmings
Spice up your Christmas home decor by adding unexpected and unique elements. For a quirky touch, try hanging baubles from a chandelier. It's fun, creative and adds some personality to traditional decor.
Vintage Fever
Vintage home decor has always been popular - so why not give it some Christmas spirit! Vintage Christmas decorations add a rustic and cosy touch to your home. Try wooden ornaments, burlap sacks filled with garlands and hanging woven baskets.
Winter Wonderland
Convert your home into a dazzling winter wonderland. Sprinkle faux snow outside your doorstep and dust glitter around the edges of your mantelpiece, coffee table and cabinets.