Swipe to the left
The Best Way to Lay Carpet Tiles on Tackifier Adhesive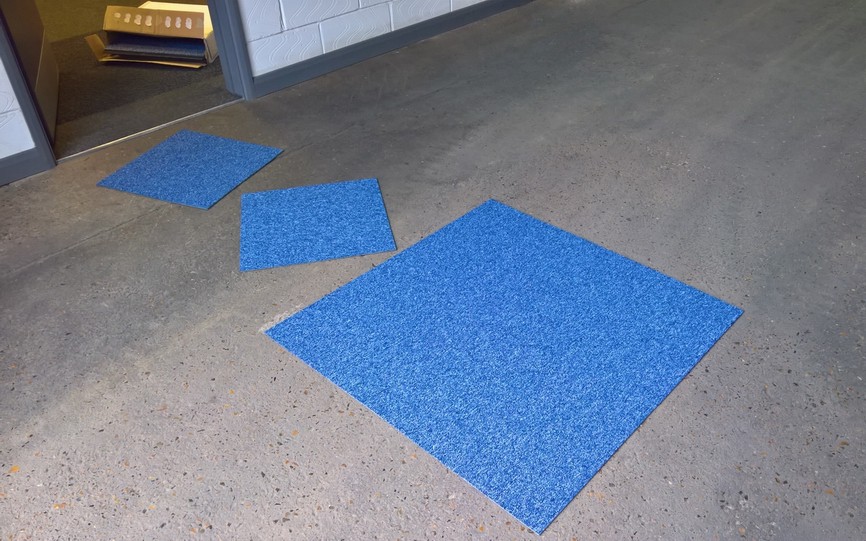 Learning a Few Tricks of the Trade!
We often get asked the same question when we supply both domestic carpet tiles and commercial carpet tiles the 'low tack' carpet tile adhesive; "what's the best way to use it?"Whether it be domestic carpet tiles or commercial carpet tiles
This, when once actually explained is a fairly straight forward process but there are a few 'tricks of the trade' which can really help and, more importantly, make sure you don't make a mess everywhere or mark your new flooring when using this product. Carpet tile tackifier adhesive basically looks like PVA glue, a milky white liquid which is applied straight to a concrete or wooden subfloor before laying carpet tiles on top. After applying it to the floor, it turns from white to completely transparent and only then can you start fitting (if you lay the tiles while it's still white then you get a permanent bond). The adhesive is made from a unique formula that's been specially designed to stay tacky as long as it's protected from dirt and dust, or with carpet tiles laid over. It acts as a pressure sensitive adhesive similar to the adhesive strip you find on a sticky note cube in an office. Simply peel a sheet off the pad and stick it onto the office wall or your PC monitor and then when needed you can easily peel off again with no worries of leaving a sticky residue mark behind. Our carpet tile tackifier adhesive works in exactly the same way, although the adhesive this time stays on the subfloor and the carpet tiles pull away from the floor leaving them free from glue and ready for cleaning or replacement if you have damage or bad stains that can't be shifted using conventional cleaning methods.
So, what's the best way to lay carpet tiles?
The adhesive can be applied by using either a roller, brush, smooth edge trowel or even a scrap piece of tile if you have one to give you a makeshift straight edge trowel. Making sure the whole floor is coated, tip puddles about the size of a saucer at a time on the floor and spread evenly from left to right working your way back out the door. You only need to cover the floor, don't drown it, as that will only mean using more glue than necessary and you'll have to wait twice as long for it to go off. Then the trick is that by this point you should have already marked the centre of your floor before laying the adhesive, as this will be where you will need to start from once the adhesive has gone from white to clear. Everyone and I mean everyone asks the same question when we say, DO NOT walk directly on the floor after you've applied the tackifier solution! They reply laughingly "Well how do we get to the middle again then?" The answer is that you open a pack of carpet tiles outside, say in a corridor or hallway or in an area that hasn't been glued and then place like 'stepping stones' until you've reached the middle. After laying 4 tiles down and butting up to each other to form a perfect square and making sure you are parallel to the walls, work your way outwards and as you get to a tile which has been dropped on the floor as a stepping stone simply lift and checking the pile direction arrows place back down in the correct position. You should then be left with a floor which has all the whole tiles laid and the cut ones round the perimeter edge left to do. You can then fit these by kneeling and cutting correctly until you have them all finished. Then clear away and vacuum any loose debris from the floor and you're all done!
By using this method you only have to incur one drying time and you won't walk adhesive on your new carpet tiles which is not only annoying but also time consuming to remove. The above image shows the principle of how to get to the centre of the floor again using the carpet tiles as stepping stones. This was done in our own premises and prior to any adhesive being laid on the floor. We stock the carpet tile tackifier in two different sizes, 5 litre and 25 litre depending on your floor area. Our handy carpet tile calculator not only works out how many tiles you need but also how many litres of tackifier you require. Make sure you've checked before ordering to guarantee you have enough to complete the job. There are circumstances when you don't need to use adhesive and this is explained in more detail on our fitting guide page. (The colour we laid on the floor is our Fjord Blue carpet tile and all the arrows are pointing the same way to achieve a broadloom carpet effect).
Got another question? Check out our FAQs about carpet tiles.