Swipe to the left
Carpet Tiles for Garden Centre Flooring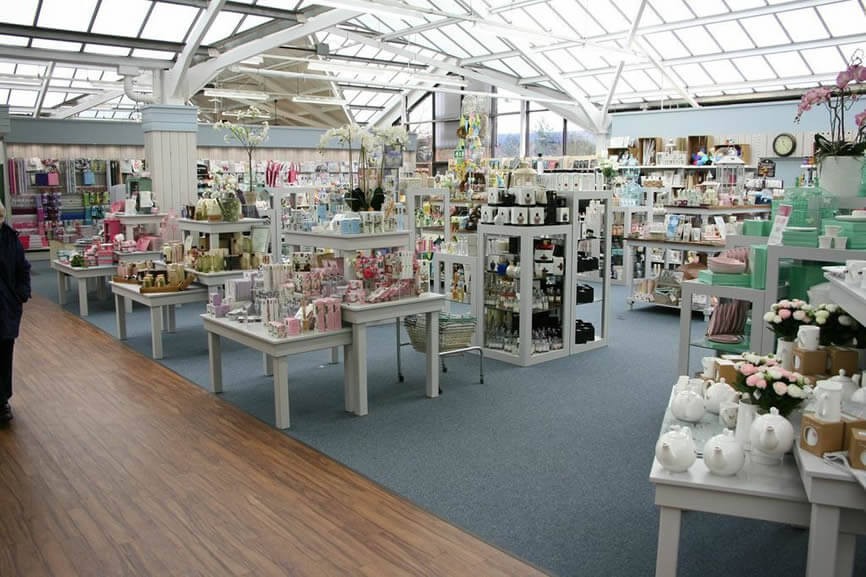 Which ones should I choose?
We have sold thousands of carpet tiles for Garden Centres over the years and undoubtedly the best type to use is either a rib, hair velour or a hobnail construction. Due to the high amount of traffic seen in a busy garden centre the heavy duty rough textured tiles work much better than a loop pile carpet tile. The nature of this type of business also plays a part in which tile works best in this particular environment.
For areas which are constantly exposed to mud, dirt and water then the open grain pile of the polypropylene carpet tiles which are stain resistant make for a really sensible choice. They offer high performance and low maintenance for an affordable price. The heavy duty bitumen backing not only provides dimensional stability to the tile but the insulating properties of the backing naturally helps to increase the ambient temperature of the area reducing heating costs. Individual tiles can be easily lifted, cleaned or even replaced in the future if damage occurs.
The other advantage is that needle punch carpet tiles manufactured from polypropylene are considerably cheaper compared to the nylon fibre tiles and work equally as well in this kind of application. The rib, hair velour and hobnail all fall under this category and we stock thousands in a good range of colours which we can supply quickly and safely to anywhere within the UK.
We appreciate that many garden centres have large areas to cover so budget is also a very important factor when looking to change or update from an existing floor covering. Here at Carpet Tiles Next Day we can advise you on which carpet tiles for Garden Centres work the best. Most owners prefer a darker coloured carpet tile which helps to hide soiling especially in troublesome areas. Carpet Tiles are ideal as they are extremely hard wearing and easy to fit. We hear from lots of customers who are looking to lay the tiles themselves and save on the fitting costs of a flooring contractor or professional fitter. When laying carpet tiles yourself we would always recommend using carpet tile tackifier adhesive though as this will help during the fitting process.
We also sell barrier carpet tiles which can be laid in conjunction with ordinary carpet tiles for entrances and doorways. These areas obviously see the most wear and using a barrier mat carpet tile eliminates the need for a separate rubber mat or coir mat in a traditional floor well. The barrier tiles help to soak up most of the water, mud and dirt away before customers walk into the store. This not only reduces the amount of cleaning required but increases the life of the carpet tiles and keeps the area looking cleaner for longer.
We have a vast amount of experience on selling carpet tiles for Garden Centres and as we purchase direct from the manufacturer in bulk then you can be rest assured of getting a great deal. Quantity discounts are available together with free tools, advice on laying carpet tiles and even free delivery when ordering over 500 tiles. We provide a free sample service so you can actually see the product first hand to make sure you are choosing the right colour and type for your floor. If you are looking for carpet tiles for garden centres then give us a call on 01485 528993. We will be more than happy to help and we can even supply your new carpet tiles next day if you are in a hurry.
We sell quality commercial carpet tiles in a good selection of different colours and constructions so even if you need a heavy duty nylon carpet tile for the office then we can help find the right carpet tile for you and at the right price!