Swipe to the left
Choosing Your Garage Carpet Tiles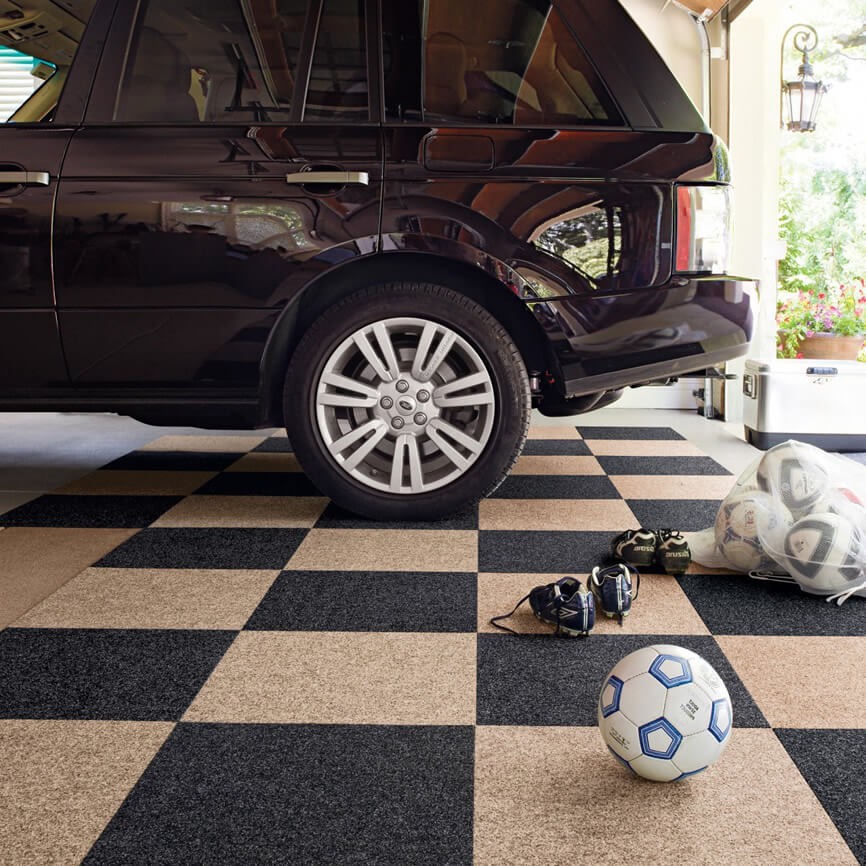 Garage Carpet Tiles
There are many different types of carpet tiles used for garages. Several factors need to be taken into consideration first before deciding on which carpet tiles to buy.
Will you be driving a car over the carpet tiles?
Has the garage been converted into a games room?
Will the garage be used as a workshop?
Is this a commercial garage showroom?
Will the carpet tiles get heavy pedestrian traffic over them?
Does the garage floor have a rough, damaged or uneven surface?
If you plan to drive vehicles over the carpet tiles then we suggest using the hobnail construction. A black carpet tile colour works well in this kind of situation to hide any water or oil leaks from the vehicle.
If the garage has been converted into a games room then make sure the floor is fairly smooth before deciding on which carpet tiles to purchase. A thicker tile will ride over the floor whereas a low level loop will show the floor through the pile. Again using a hobnail or hairy velour tile is best but if there is no vehicular traffic then a lighter coloured carpet tile may be used.
Some customers who use their garage as a workshop will find that loop pile carpet tiles will be better than a textured carpet tile. Things like paper, wood shavings and other debris are harder to remove from carpet tiles which have a rough surface. The type of tile used depends on which material you will be working with so if you are not sure and need advice then please either email us at sales@carpettilesnextday.co.uk or telephone on 01485 528993 for further information.
When using carpet tiles for a motorcycle or car showroom, vehicles are generally brought into the area dry to eliminate wet patches on the floor. Any loop pile, hobnail, cut pile or rib cord carpet tiles can be used as long as the carpet tiles are stuck down using tackifier adhesive. This is a pressure sensitive adhesive designed specifically for carpet tiles and stops any lateral movement which can occur when moving vehicles.
For carpet tiles subjected to daily high levels of pedestrian traffic then careful consideration should be taken before purchasing. The hobnail or rib tiles work well in this kind of environment but can be slightly more difficult to hoover compared to a loop. We would recommend using a nylon fibre loop pile tile which is heavy contract and castor chair suitable. If a polypropylene fibre loop pile carpet tile is used then the pile may flatten and highlight paths on the floor where the most traffic passes over.
When laying garage carpet tiles particular attention should be paid to the sub floor. Often residential garage floors have a rough concrete screed which has been tamped to provide a textured finish. The rest of the house will have a final screed to leave a smooth floor before a floor covering is laid. If your garage has a rough floor then use a self levelling compound to make it suitable for laying carpet tiles on. Also any damage or uneven surfaces should be treated in the same way to ensure the tiles lay flat naturally as an edge sticking up can cause you to trip or fall if not installed correctly. General advice on how to fit your tiles can be found on our Fitting Guide.
Carpet Tiles have several advantages over other types of floor coverings one of which is their insulating capabilities. Most carpet tiles manufactured for the European market have a bitumen backing and when laid onto a wooden or concrete floor provide a barrier against heat loss. With only a minimal amount of heat the room will immediately feel warmer compared to before not only helping your pocket but also the environment. The carpet tiles can also be lifted and cleaned or relocated to another garage if you move. With the acquisition of a few extra carpet tiles you can keep your floor looking clean and tidy long after a piece of carpet has worn out!