Swipe to the left
Looking To Replace Your Worn Showroom Carpet Tiles?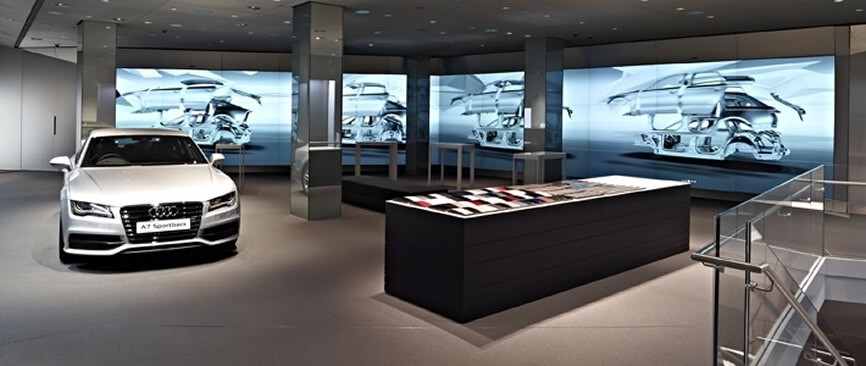 Showroom Carpet Tiles
Does your showroom look drab and tired? Why not consider recovering your zing by laying some bright new commercial carpet tiles? Whether you display glistening cars or sparkling bathroom suites, they need a smart, hard wearing flooring to make them stand out from the crowd. It may make the difference of a perspective purchaser viewing your wares or moving right along.

First impressions need to be the best, so take the plunge, use a moment of your precious time to take a look at our wide range of commercial carpet tiles and draw in those browsing customers. If you own a vehicle showroom we have ranges that are suitable for heavy footfall and tough enough to take the movement of the vehicles over them, especially when the carpet tiles are adhered correctly with Carpet Tile Tackifier Adhesive. This allows the tiles to be held securely in position, whilst also giving you the opportunity to remove any for cleaning, and is really the best way to lay carpet tiles.

You simply re-lay the changed tile back onto the tacky surface, this will adhere again, keeping the area clean, neat and tidy.

For a tough professional finish that will take the heavy traffic of a display area, view our range of Hobnail Carpet Tiles. These carpet tiles are available in red, green, blue and anthracite all colours which are ideal for displaying. No busy, confusing patterns, our Carpet Tiles they will simply show off your items at their best, used as a classy backdrop. Why not be brave, you could consider laying two colours, make pathways through a main base colour, leading your customers to the treasures that you have for sale. Or frame your vehicle by standing them on a block of a complimentary colour to the rest of the floor space.

If your exhibition area is trying to promote a comfortable, homely feel, such as displaying furniture, soft furnishings or household fittings, then our contract loop piles may be the option you choose. We sell ranges of loop pile carpet tiles manufactured in either polypropylene or nylon, allowing you to have a choice of price as well as colours, to fit in with your budget whatever it may be.

Are you ready for a face lift? To request samples of your choices of carpet tiles please click on the button below or to contact Carpet Tiles Next Day ring on telephone on number 01485 528993. If you prefer you can contact us via email on sales@carpettilesnextday.co.uk, we look forward to hearing from you.