Swipe to the left
Why You Shouldn't Cut Corners On Carpet Tiles!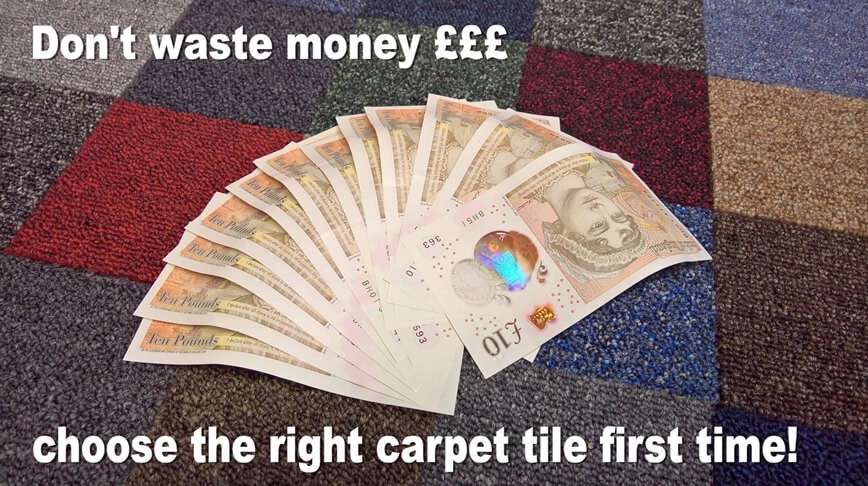 No pun intended…
If you're planning to lay or replace your flooring now or in the future it's always advisable to consider the cost of the full life when choosing to use carpet tiles.
If you plan to change your décor and update regularly then your immediate flooring costs can be kept low, but this can only be achieved by choosing less expensive, expendable carpet tiles. These lower cost budget options are not manufactured to the same hard wearing capabilities or longevity as others but are produced at a reduced cost to hit a certain price point for short term effect rather than durability.

If, however, you are expecting your selection to last many years in heavy wear situations, or specifically choosing to withstand constant traffic and considerable use; such as having castor wheeled office chairs continuously running over them, then the less expensive end of the scale is not advisable.
This continued renewal and replacement will not be cost effective and would compare badly against originally paying a little more for a proven, good quality carpet tile in the first place.

Often wrongly selected carpet tiles get laid in very high traffic areas such as halls, lobbies and corridors. There is always a risk that this can give rise to worn and damaged carpet tiles in the short term, not only does this give the impression of uncleanliness and carelessness, they can also be hazardous. Trip hazards are a problem that companies cannot afford to ignore. This can all be avoided if the correct carpet tiles are purchased for the correct area and usage. To help below we have laid some of the top things to consider in bullet points to make this easier to figure out.

1. Application (where will they be used?)
2. Colour (do they fit in with your décor?)
3. Lifespan (how long do they need to last?)
4. Cost (do they come in on budget?)
5. Availability (are they actually 'in stock'?)

In most circumstances with carpet tiles your consideration should always be the lifetime cost of the flooring, instead of the initial purchase price. Choosing your carpet tiles should not be a bargain hunting expedition, it should be a considered investment in the long term condition and impression of your building or workspace. If after looking through our extensive information on our Carpet Tiles Next Day site you still cannot make your choice and need further help then please give us a call.