Swipe to the left
10 Easy Work Office Decorating Ideas To Help Boost Productivity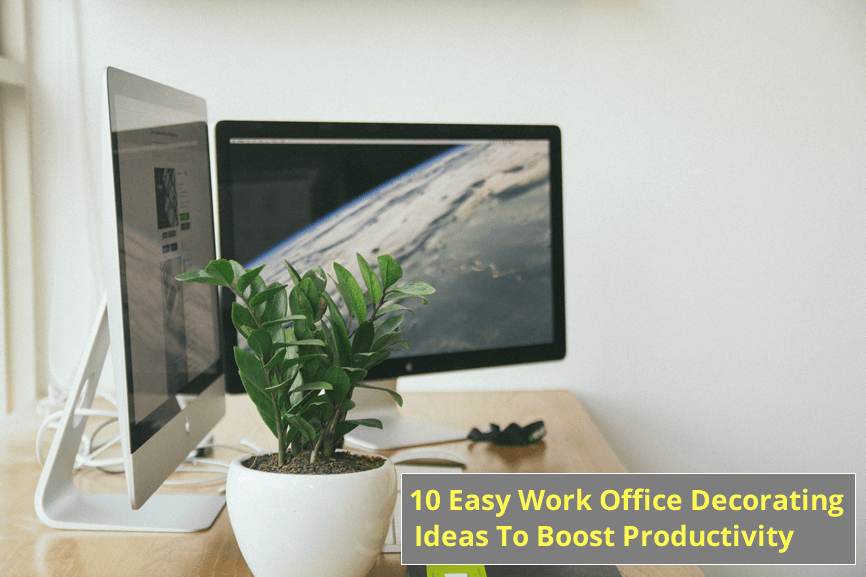 Tidy Workspace. Tidy Mind.
Your office space can have a significant impact on the productivity of your workplace, and in turn the overall success of your business. You can't expect to motivate a team or accomplish many tasks in a cramped, dark and cluttered office.
But if you create a light, spacious, comfortable and aesthetically pleasing workplace, you're more likely to boost productivity, happiness and work satisfaction within your company.
Now, that doesn't mean magnolia walls and corporate desk chairs - try to decorate your office in a way which is unique to your company's ethos and values.
Need some office decorating tips? Take a look at these 10 easy work office decorating ideas for inspiration:
Office Decorating Ideas
1. Lighting
Great lighting is one of the most crucial components of a well-designed office. Natural lighting is the best - try to keep any window areas free to let the light shine through.
When it comes to keeping your office lit, opt for high quality artificial lighting. Lamps and indirect spotlights work better than generic fluorescents.
2. Colour
Colour is one of the most effective ways to brighten up your office. Light shades such as white and neutrals are great for opening up spaces. Use these as the base colour for the walls and incorporate brighter hues and darker colours for feature walls, furniture and other office decor.
Having a colour scheme will help keep your office coordinated.
Why not incorporate your brand colours for a sophisticated and consistent style?
3. Office Carpet Tiles
Every office is different, but they all require practical and long-lasting flooring. Heavy-duty and hard-wearing commercial carpet tiles are the best floor covering for offices. Not only is it durable, being able to withstand daily wear and tear, and easy to maintain, but office carpet tiles come in a variety of colours. They are also simple to install - find out the best way to lay carpet tiles.
4. Relaxing Spaces
Research found that having more spaces to relax in at work boosts productivity.
Why not create a designated breakout area for team members to unwind away from their desks?
Incorporate cool tones of blue and green or mellow hues of yellow for a relaxing ambiance. Add sofas with plush cushions or bean bags for extra comfort.
5. Plants
From cleaning the air, to brightening up the room and even reducing stress, having plants in the office is a simple way of creating a more productive workspace. Small pot plants, indoor palm trees and shrubs are perfect for indoors!
6. Wall Art
Artwork in the office is a simple way of adding some style and flair to your space. Choose framed pieces of art or canvas prints to hang on the walls. Larger pieces can make your office look bigger, compared to multiple small pieces.
7. Feature Wall
A feature wall is the perfect way to incorporate more colour into your office, without it being overwhelming. Try paining a single wall with a bright or accent colour, or use patterned wallpaper.
8. Office Furniture
Comfort is important when choosing the office furniture. Practicality should come above design, as productivity is likely to suffer if chairs or desks are uncomfortable.
That being said, there are a multitude of stylish office chairs and furniture available, so you can strike the right balance between office chic and office comfort.
Work in a small office?
Try not to fill the whole space up with bulky furniture. Choose smaller pieces of furniture to make the room feel less cramped.
9. Storage
Having a clear storage system will ensure you avoid clutter building up around the office. Outline areas which will be used for storing things like files, stationery and other potential clutter. Try to use tall, vertical cupboards which takes up less floor space.
10. Personalised Desks
Encourage each individual member of the team to decorate their office desks or workspace to suit their own personality and style. Whether that be a framed family photo or quirky coffee mug, this will most likely motivate employees and and create a relaxed working environment.
So there you have it. With a few simple work office decorating ideas, you can transform your workspace and increase productivity. Happy decorating!